As you probably know,
Bobby Valentine made this comment on the Derek Jeter flip throw
in the 2001 ALDS:
"I think (Jeter) was out of position and I think the ball gets (Giambi) out if he doesn't touch it, personally."
If you look at the following split-screen photo, there are only 3 possible explanations:
Valentine has been heavily tapping the Red Sox starting rotation's beer stash.
Valentine will say anything to get his name in the paper, even if that means making perhaps the most moronic statement in baseball history.
Valentine is revealing that Jorge Posada has a secret 20-foot retractable arm that he could have used to reel in to reach Shane Spencer's errant throw.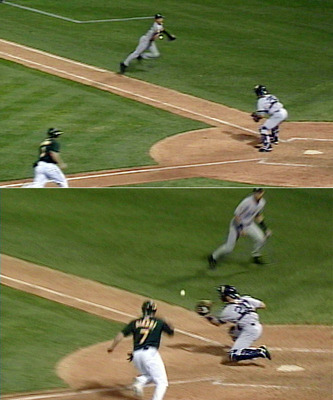 What else is there to say about this?


image source:
http://cdn.bleacherreport.net/images_root/slides/photos/000/235/014/Posada_display_image.jpg?1274669829