As a fan and a paying customer, I've felt ripped off for years by MLB's incompetent quality assurance. Umpires make mistakes, as we all do. However, video replay has the ability to improve the quality of the product, to eliminate terrible, aggravating calls. Unfortunately, Bud Selig has held baseball back in his usual indifference to the best interests of the game, which is why baseball lacks a good replay system.
So, while I know I am supposed to go "tut tut" about the Braves fans throwing crap on the field after
umpire Sam Holbrook's historic botched call
, that would be dishonest. Because what I really feel is that this ugliness is a valid protest against being ripped off by MLB.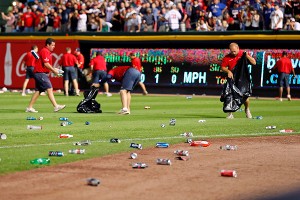 What do you expect from a sport that still employs C.B. Bucknor?!
Image Source: http://a.espncdn.com/photo/2012/1005/mlb_g_trash_mb_300.jpg